The station is built over two important railway lines as well as Denmark's busiest stretch of motorway, the Køge Bay motorway, with nearly 100,000 cars passing daily. The new hub enables more efficient and sustainable transport to and from the capital, thereby helping to reduce car congestion throughout the metropolitan area.
The covered bridge will serve as a visual invitation to thousands of people commuting by car to choose the more sustainable option of parking their vehicle and taking the train, saving both time and money as well as reducing their carbon footprint.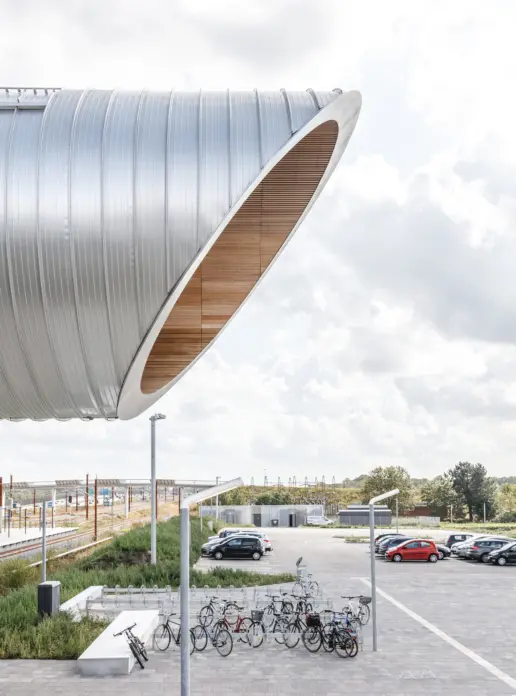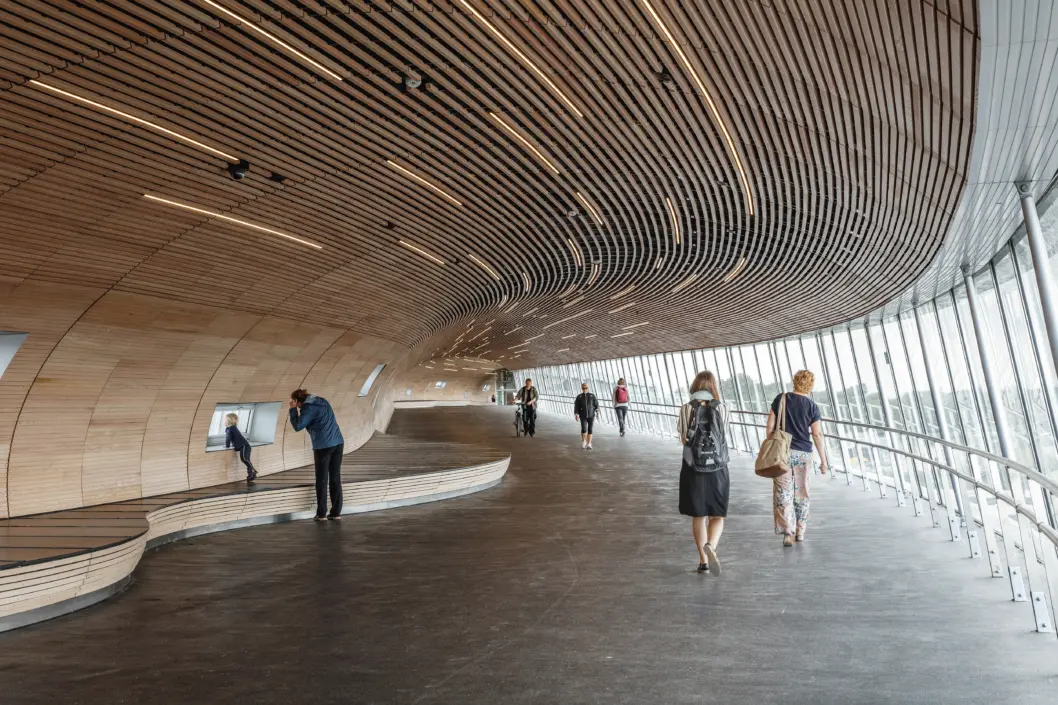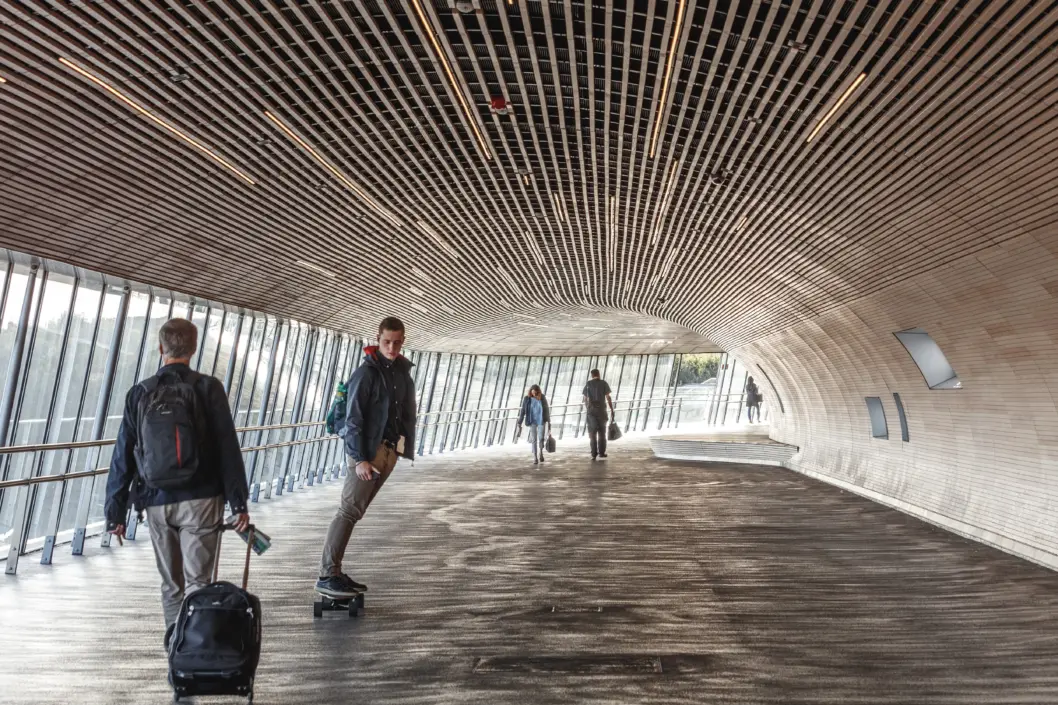 The Køge Nord Station hub is planned for more than 2,000 cars in the future equal to just 2% of the cars travelling the motorway. This will save 80,000 km travelled back and forth daily and approximately 8,000 tons CO₂ annually – based on an average car emitting 200-gram CO₂e pr. km.
Nudging motorists to
choose public transportation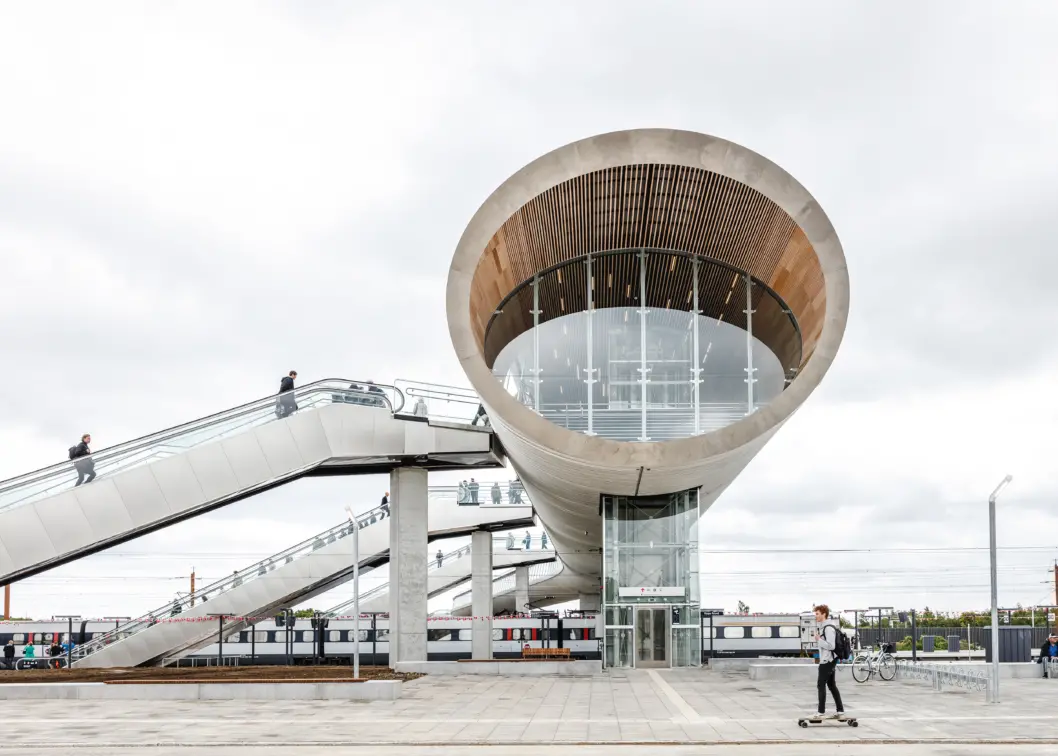 Connecting the new double-track high-speed rail line between Ringsted and Copenhagen, the futuristic design of Køge Nord Station is apt for the surrounding area, which is currently undergoing a tremendous transformation.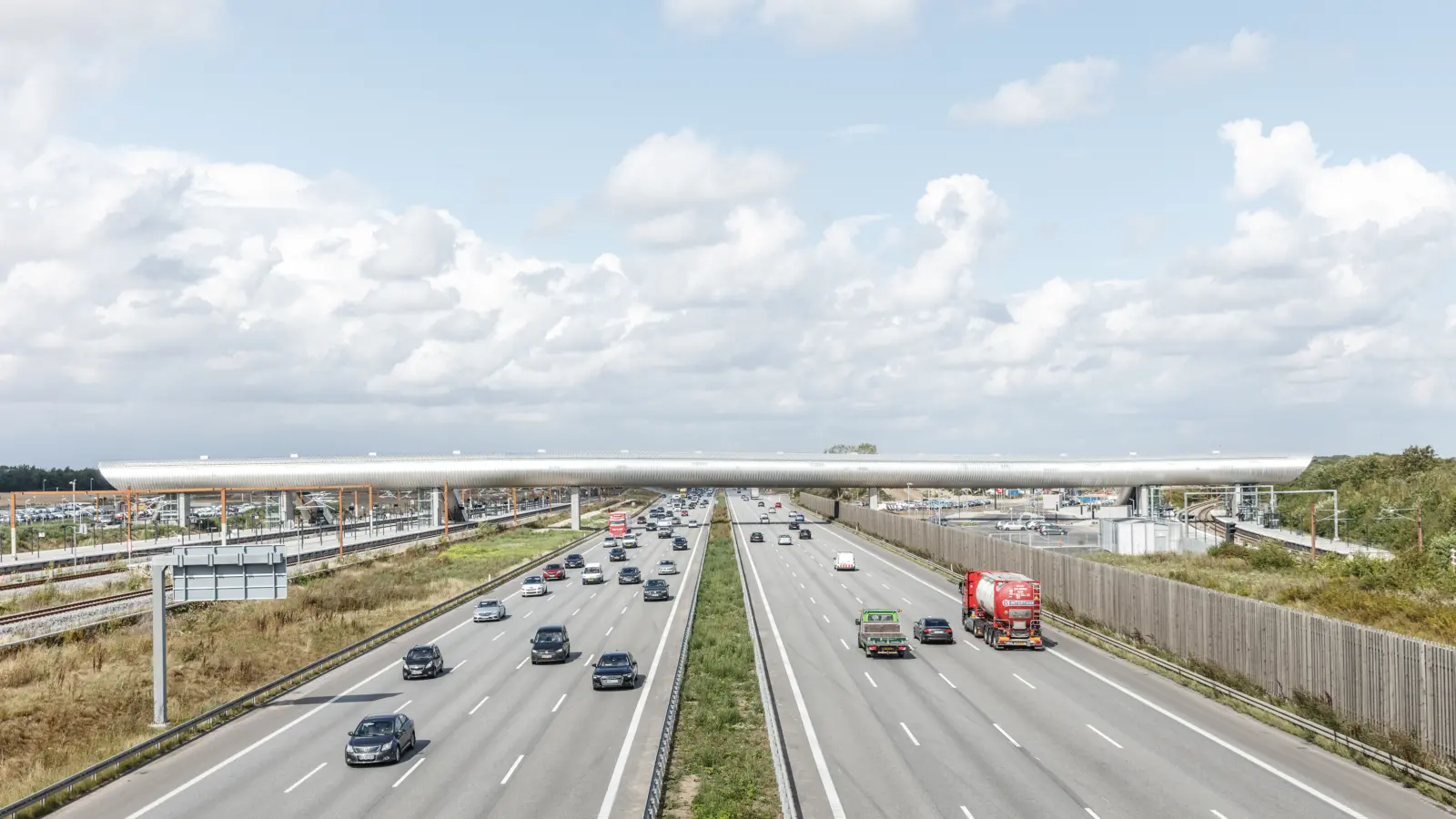 The covered pedestrian bridge is designed to protect the users from noise, excessive light and both cold and hot weather - creating a more attractive commute.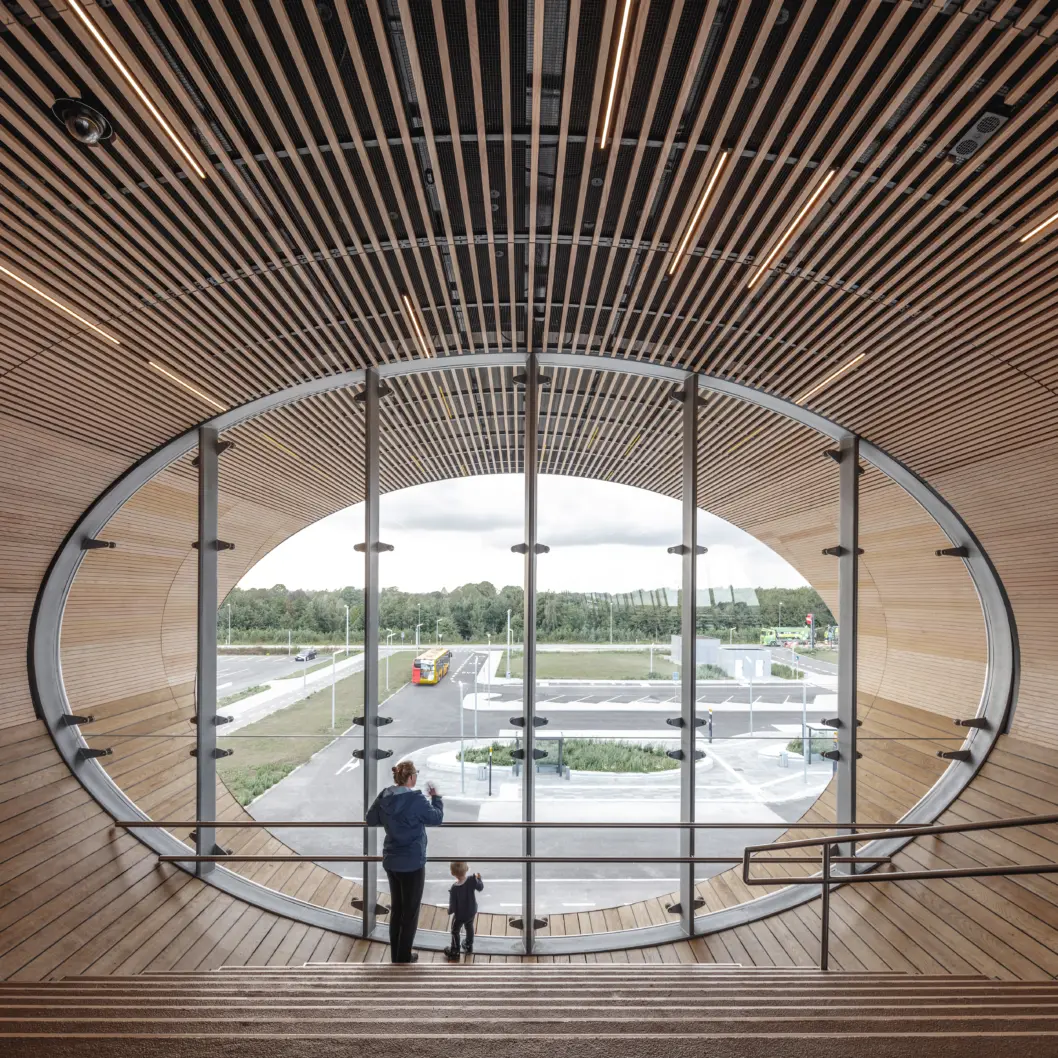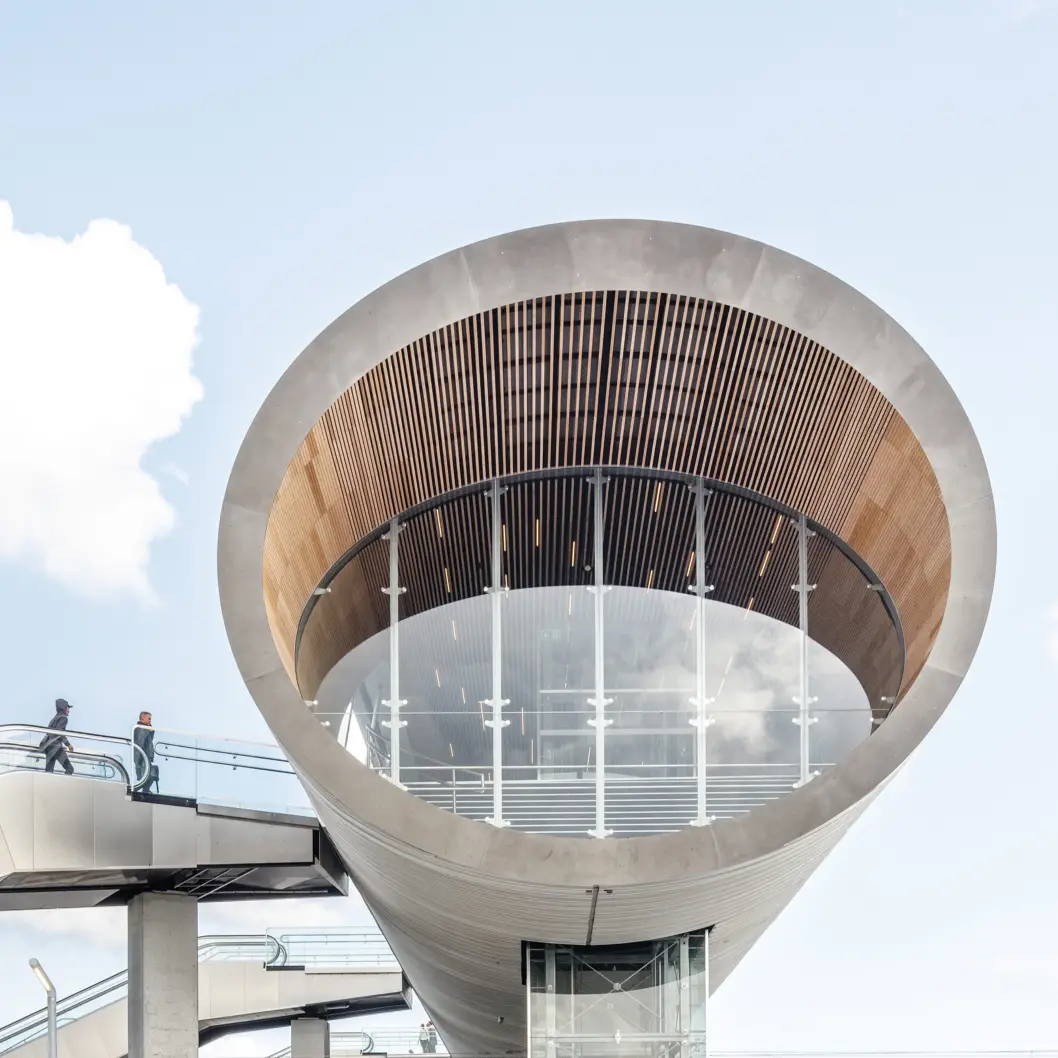 The south facade of the bridge is closed, while the north facade is open, providing a stunning 180-degree panoramic view of the surrounding landscape. The view can be enjoyed either standing, walking or seated comfortably on the built-in furniture along the south-facing wall.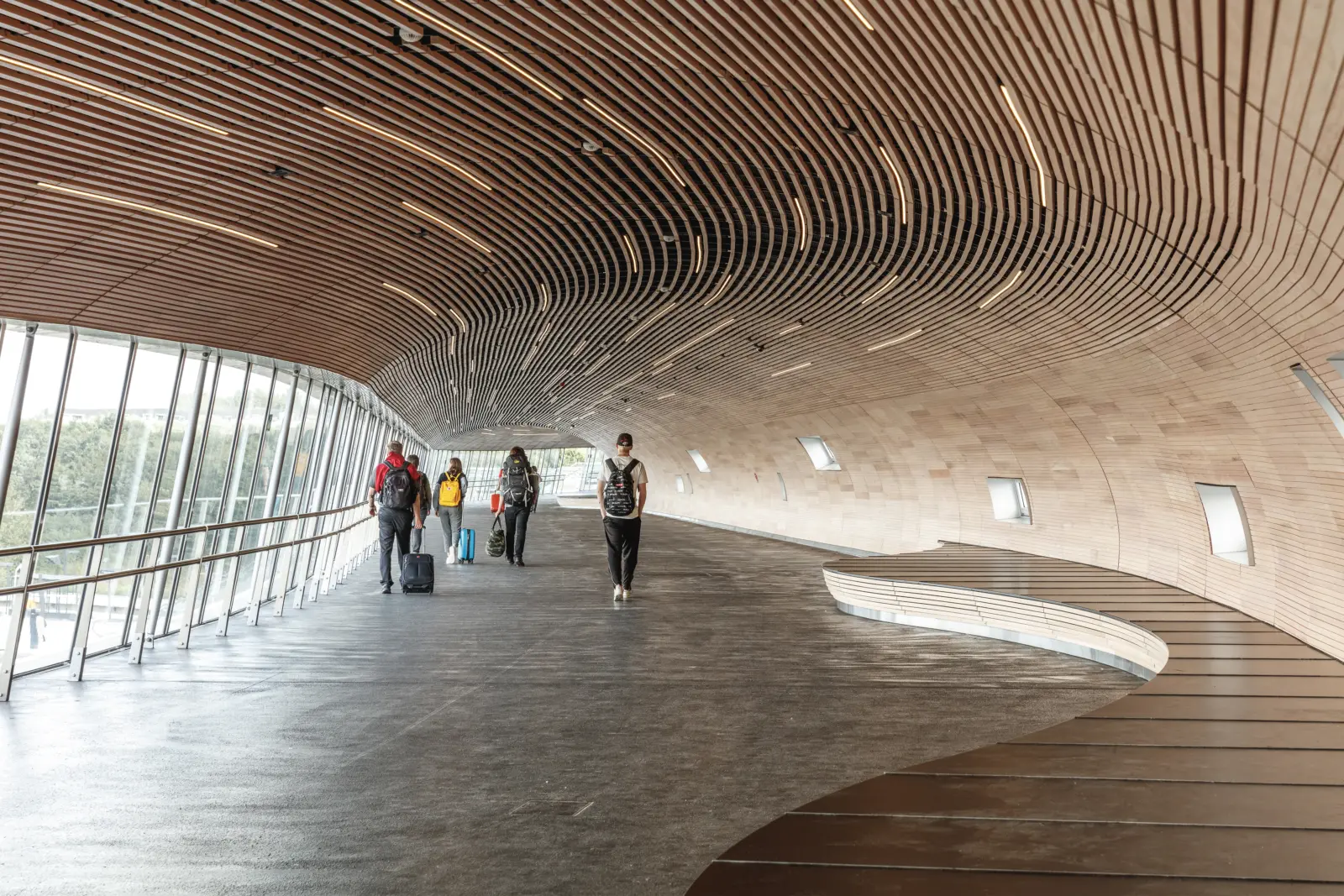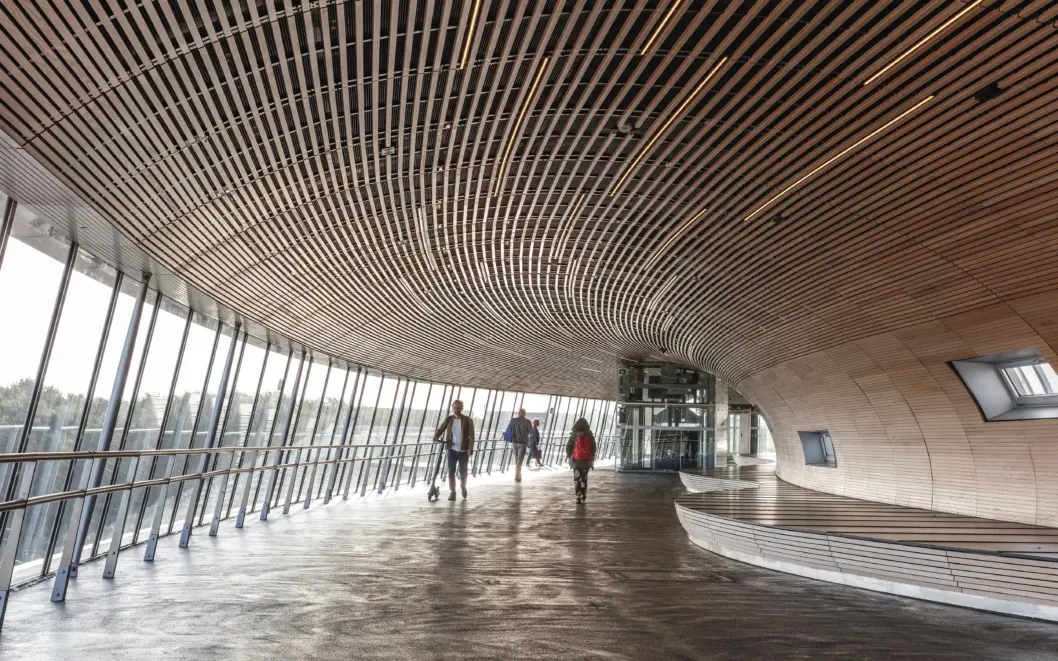 The wooden panelling that covers the interior walls lends the interior of the bridge a warm and welcoming feel. The interior space is contrasted by the smooth, cool aluminum exterior.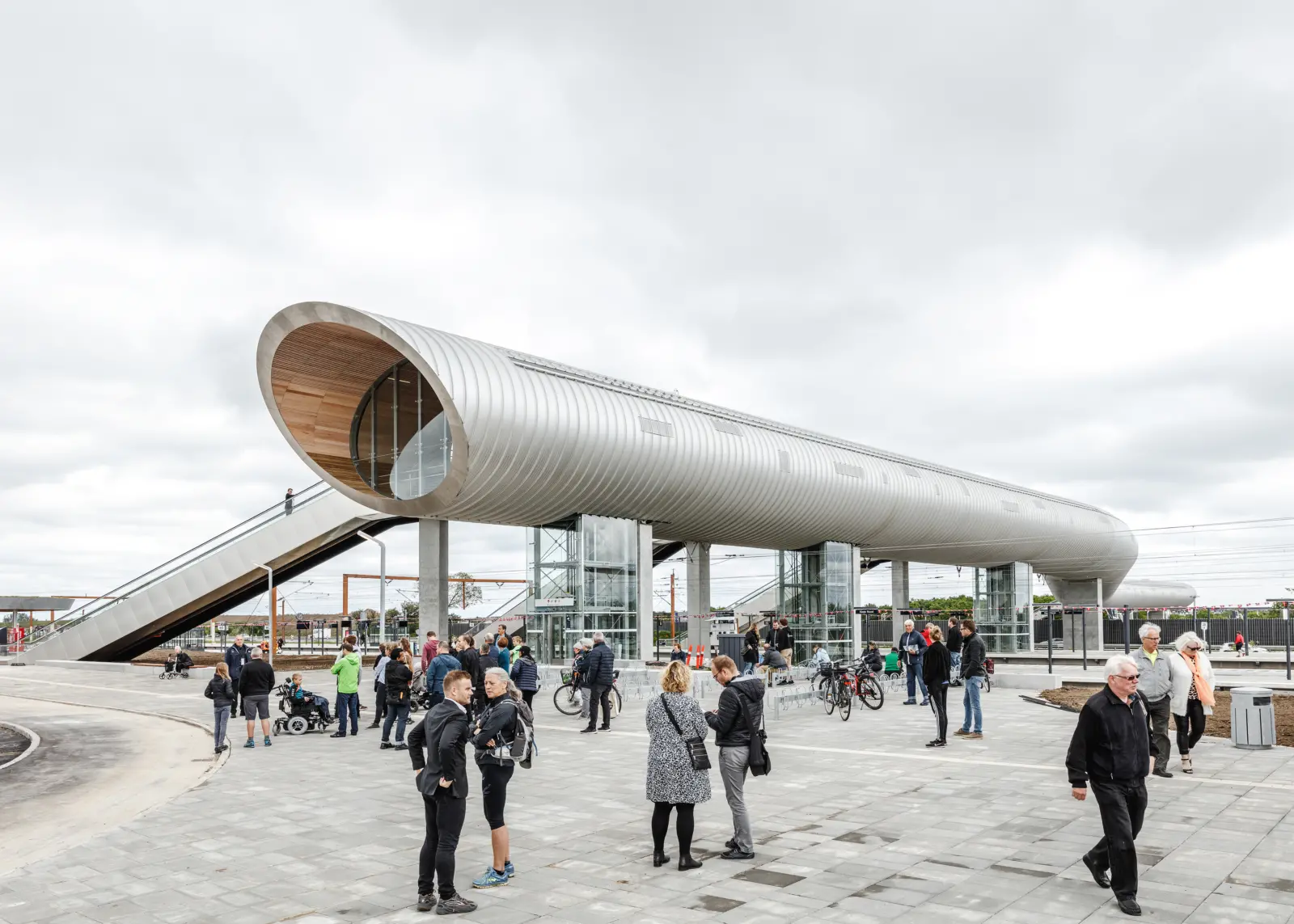 We have designed a landmark for the development that the city of Køge is currently undergo­ing. A development driven by innovation, pioneering spirit and a bold outlook that is embodied by the station bridge and the related facilities. The bridge is also a new architectural attraction for the area; a long, spectacular steel snake sinuously extending above the railway lines and offering the users a mag­nificent panoramic view of the cultural landscape.

Dan Stubbergaard, architect and founder, Cobe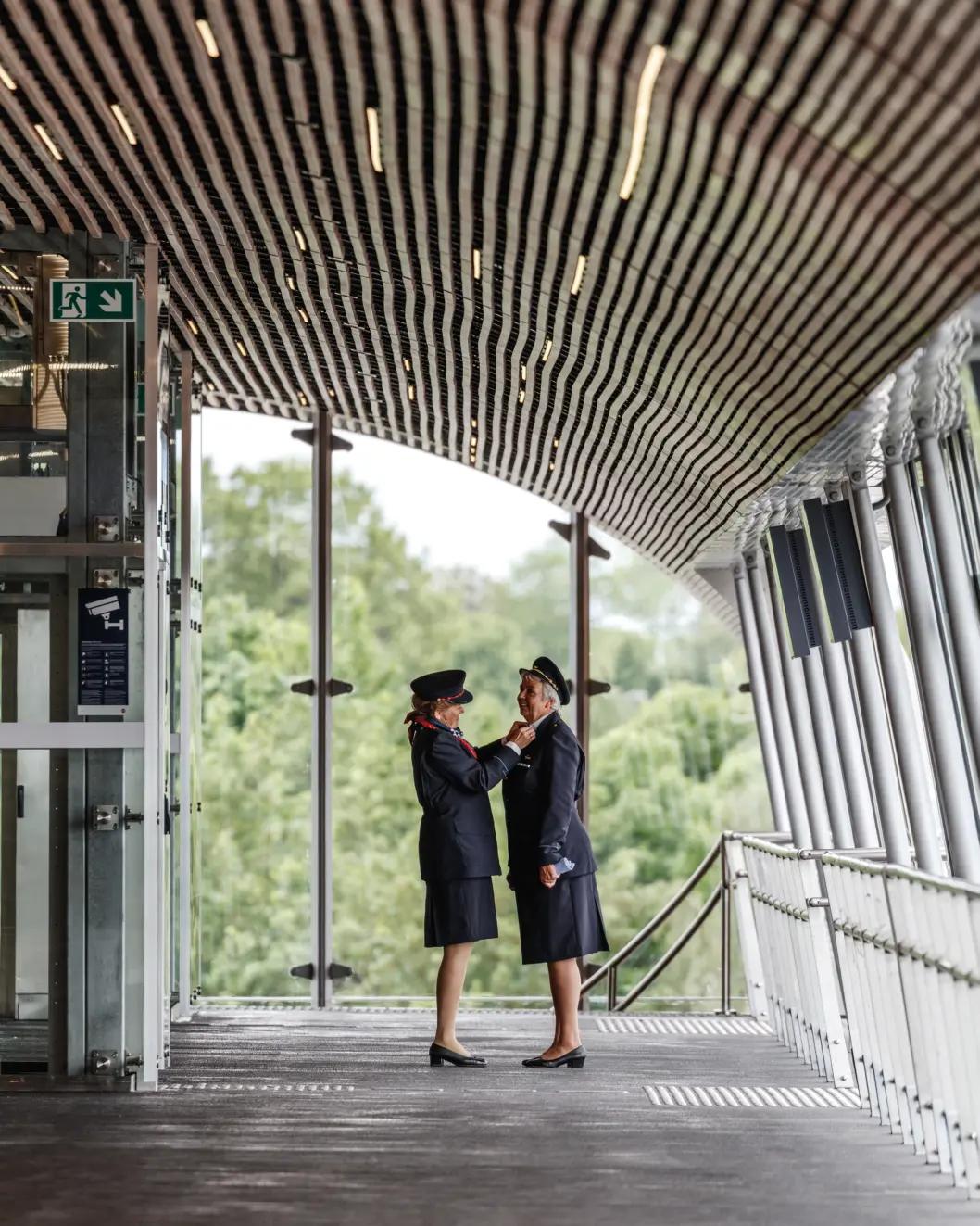 Promoting "the good travel experience", the bridge offers views of the outside and an intimate feel as well as a good flow and zones for pausing. The nine-meter-wide tubular bridge provides qualities that go beyond the purely functional and practical purposes of an ordinary train station.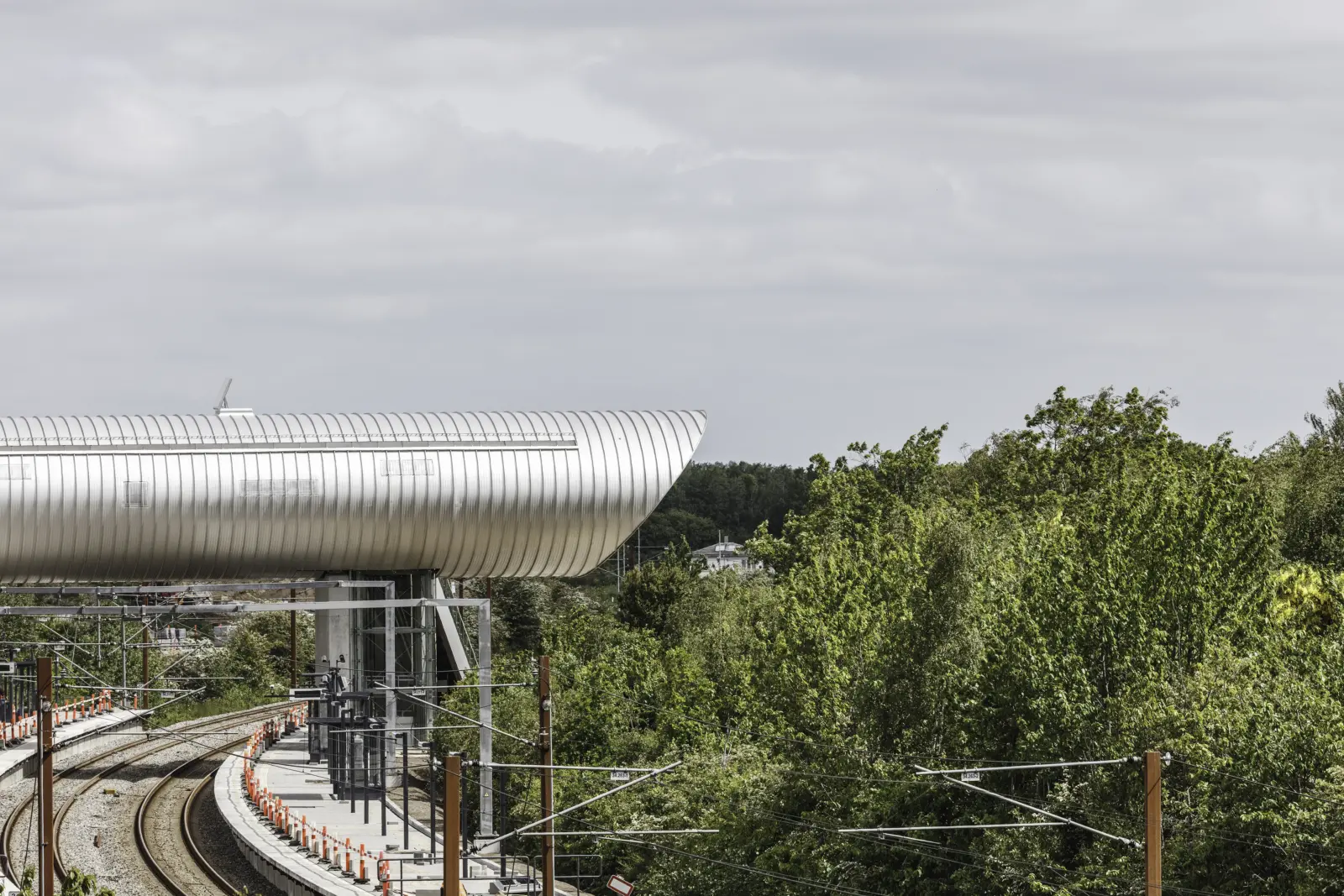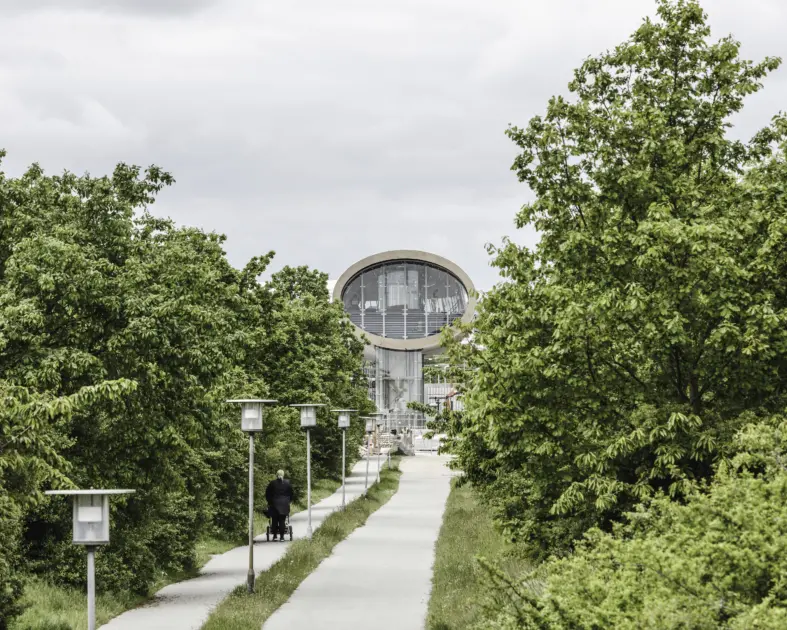 The traffic hub comprises not only of the station and its spectacular footbridge, but also an associated park and ride facility.