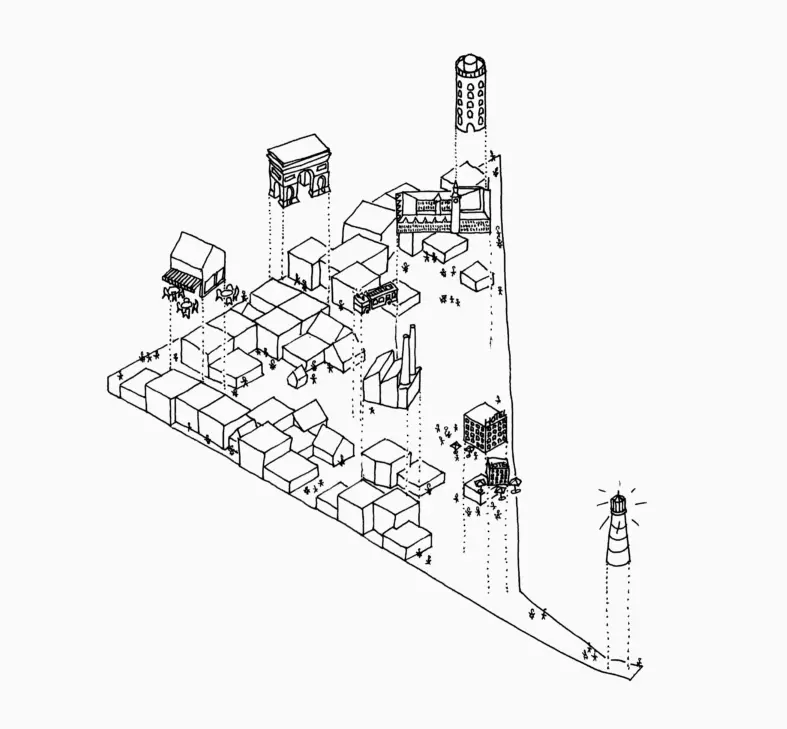 The world's best
city for kids
Copenhagen is growing and so is the demand for new facilities to accomondate the growing population of children. How do we ensure welfare for the next generation without creating large day care factories?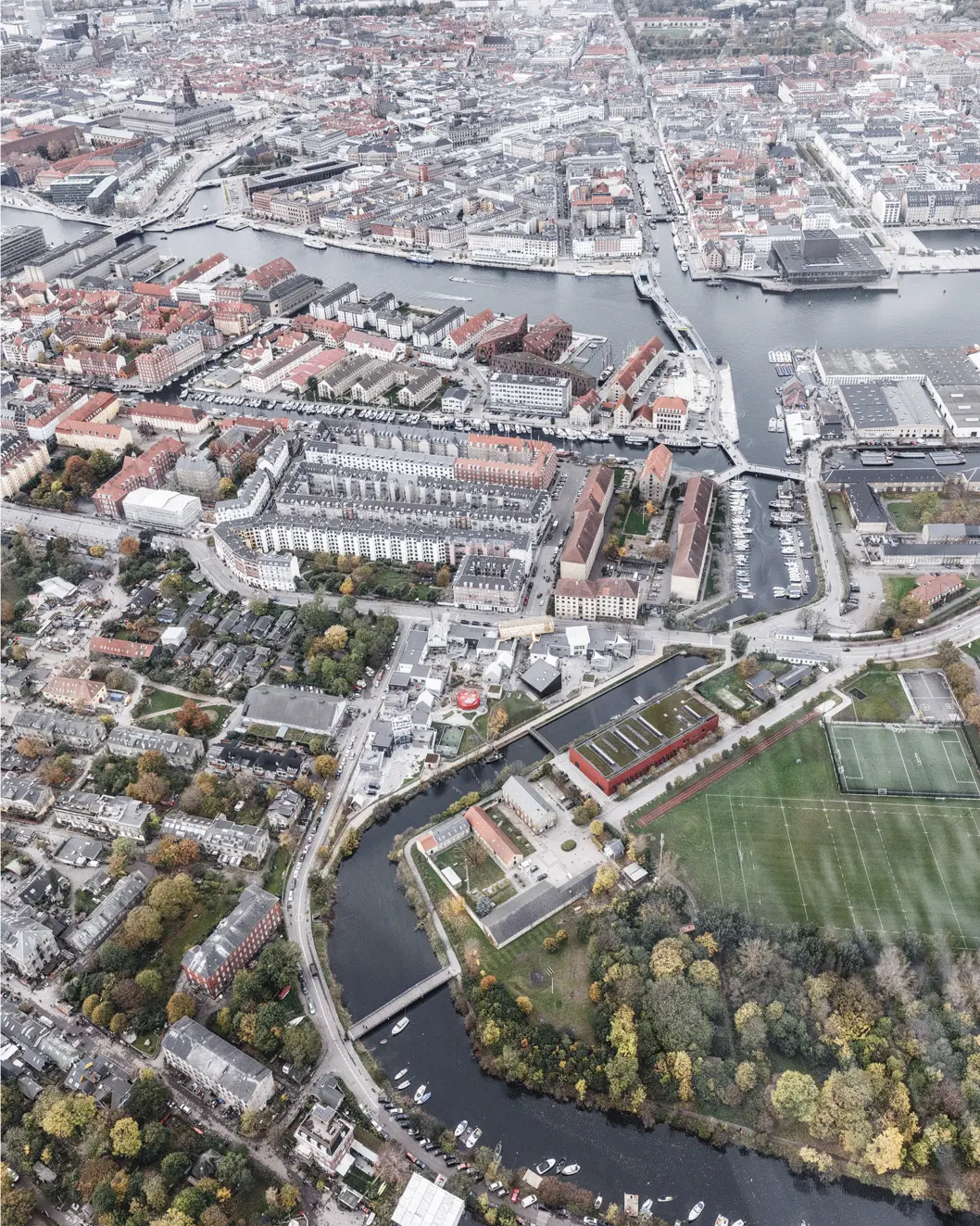 The site is a triangular plot wedged in between the freetown Christiania to the South, the urban blocks of Christianshavn to the west and Aresenaløen and the canal to the east.
Copenhagen is made up of many neighbourhoods, each with special buildings that carry a particular history or meaning. These buildings provide the different areas with character and atmosphere. In the same way, Kids' City Christianshavn has been designed to reflect the city's architectural diversity.

Dan Stubbergaard, architect and founder, Cobe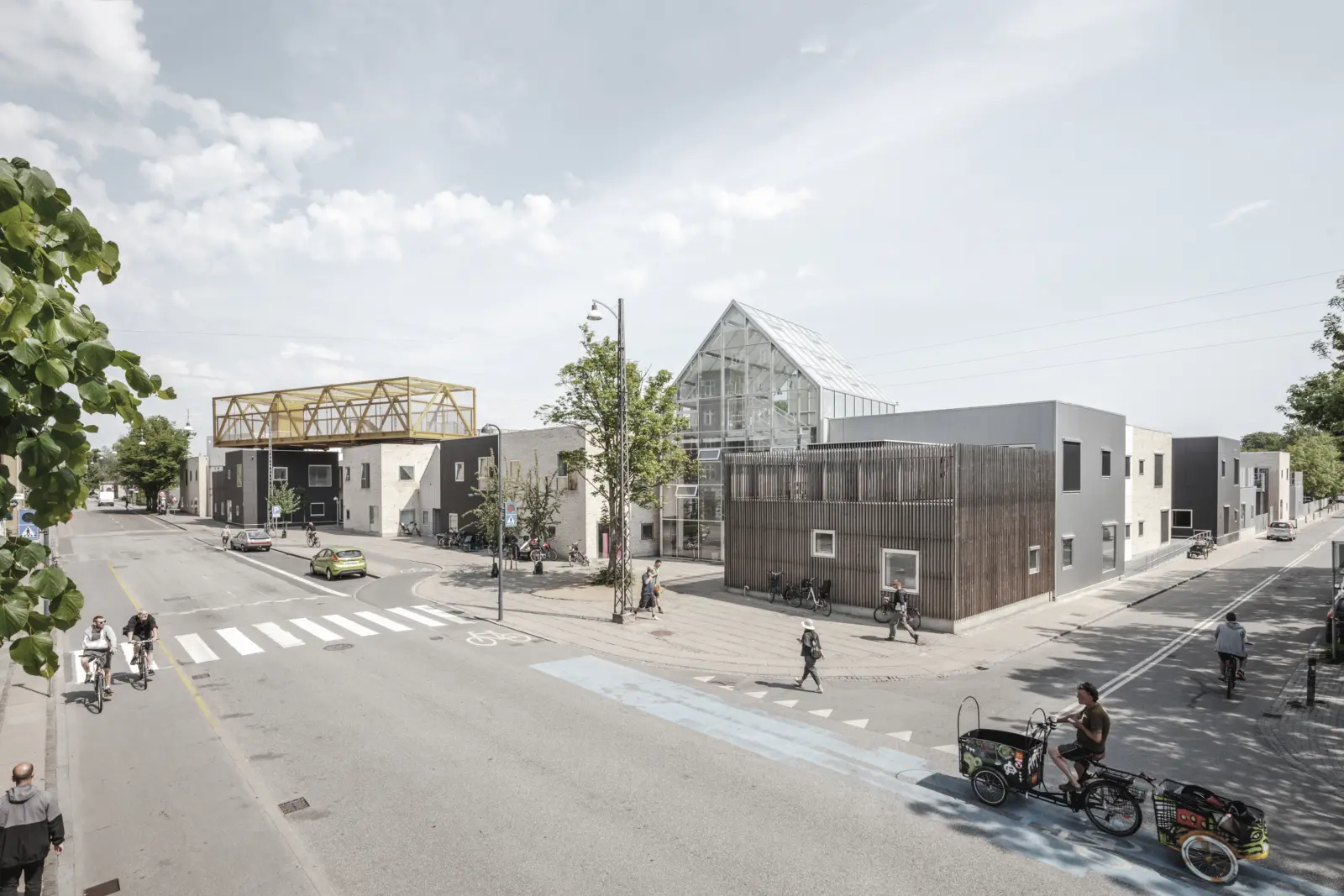 From kids' factory
to kids' city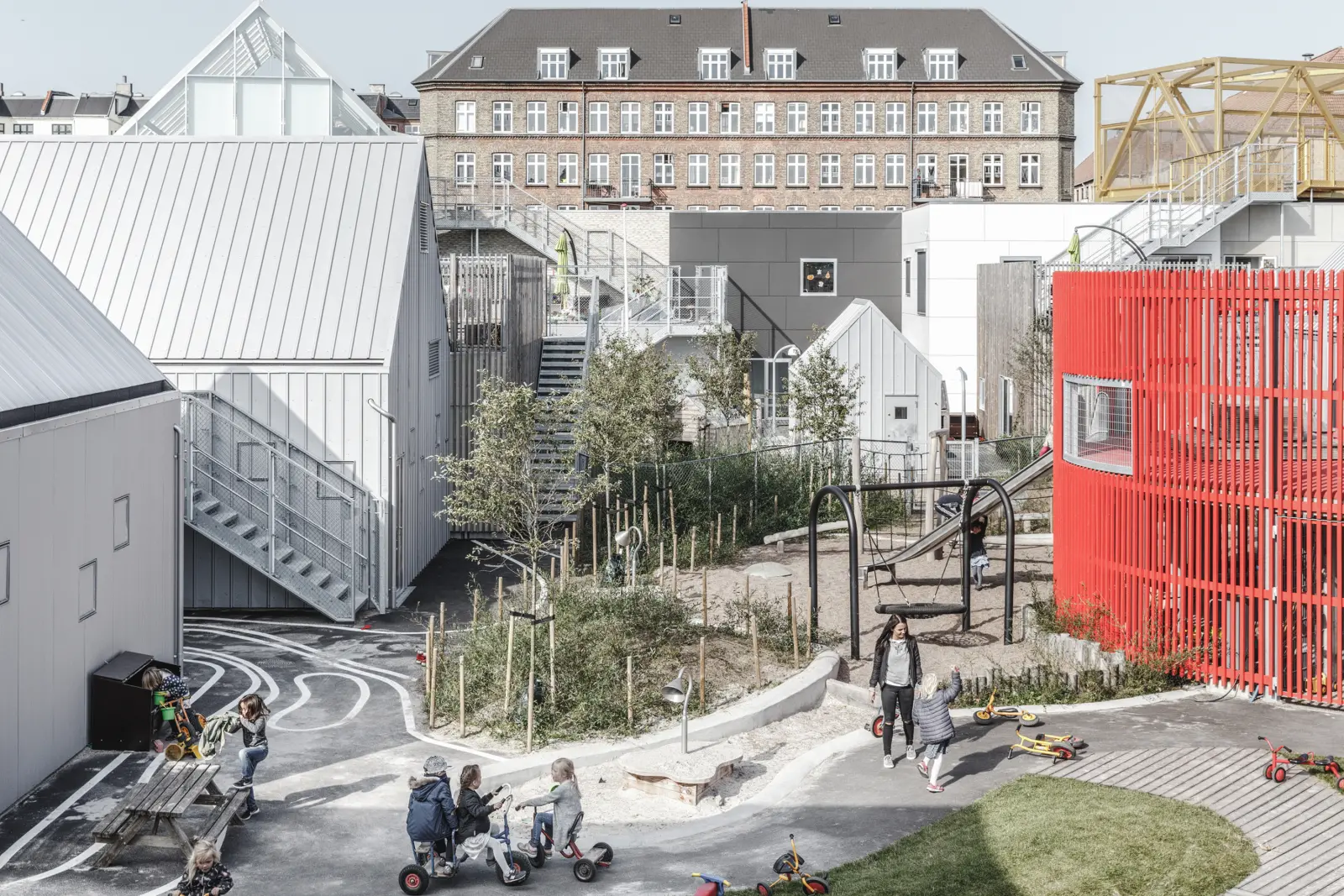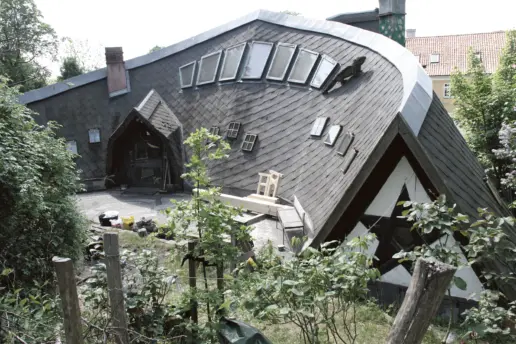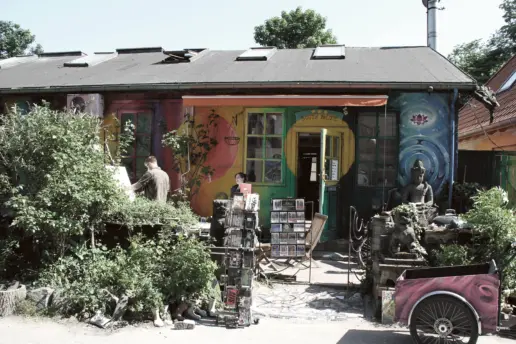 Kids' City Christianshavn has all the iconic elements of an actual city, scaled down to kids' size, providing the different areas with character and atmosphere.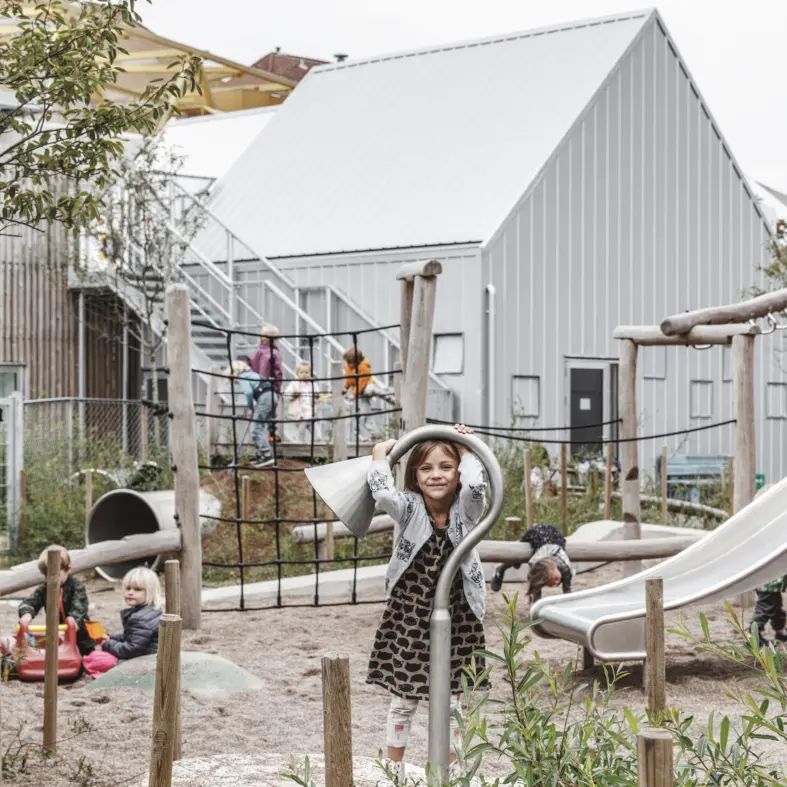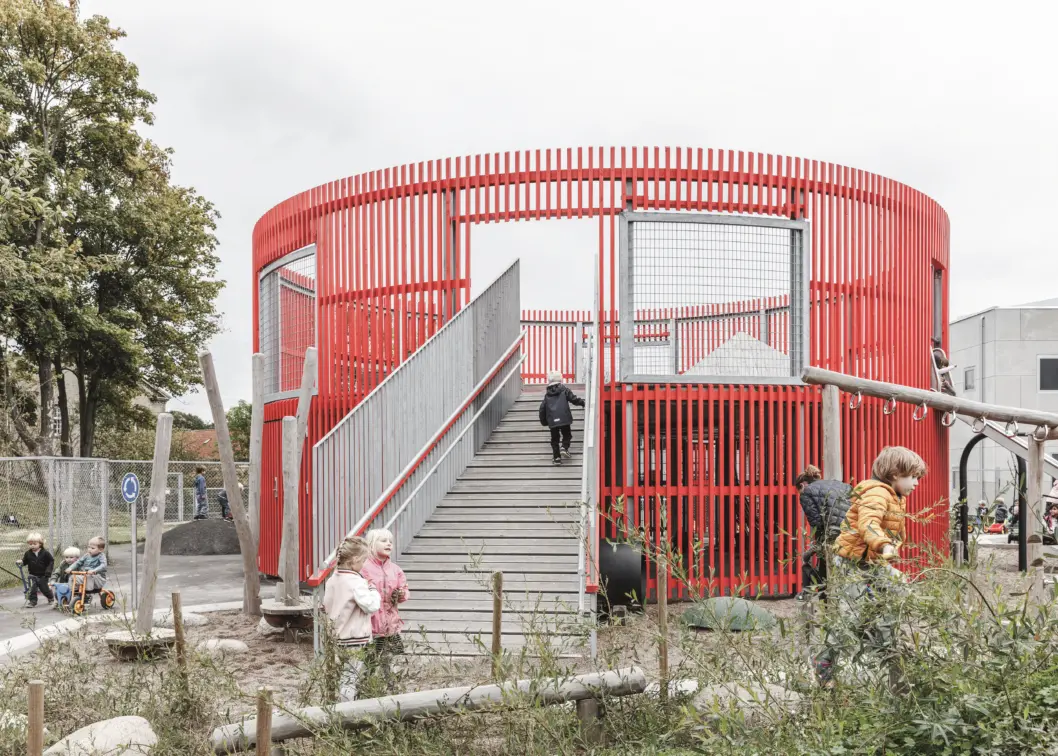 The Fire Station is of course bright red. Being a unifying playscape, small kids have access to the ground floor, and bigger kids have access to the top. The Fire Station also works as a garage for moon cars.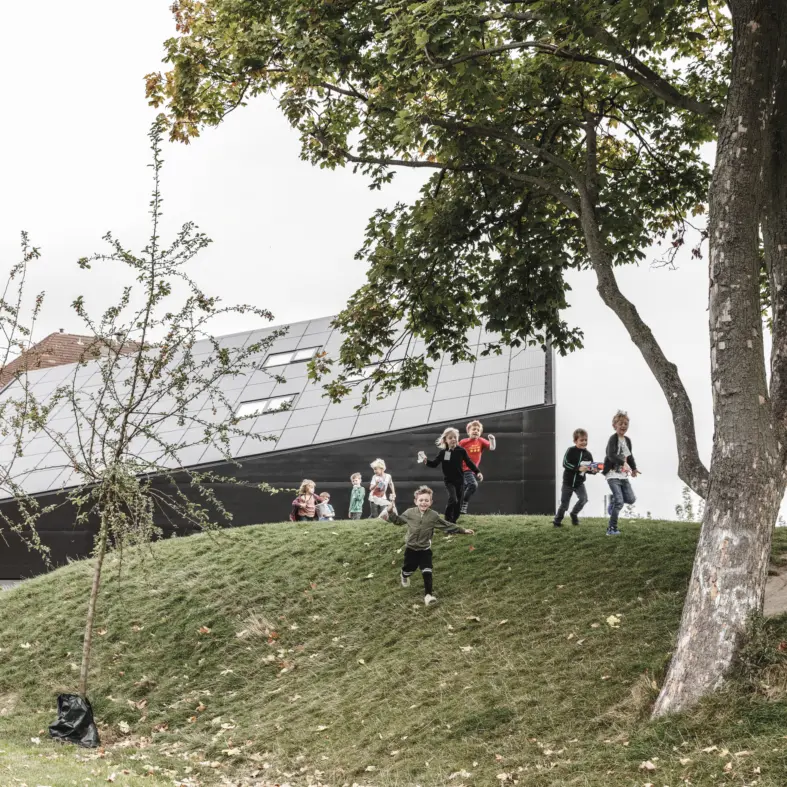 The Town Hall is where everyone can meet and perform a musical or have a Christmas party. On summer days, all doors open to face a wooden deck in the sun. The roof is covered in approximately 200m² integrated solarpanels.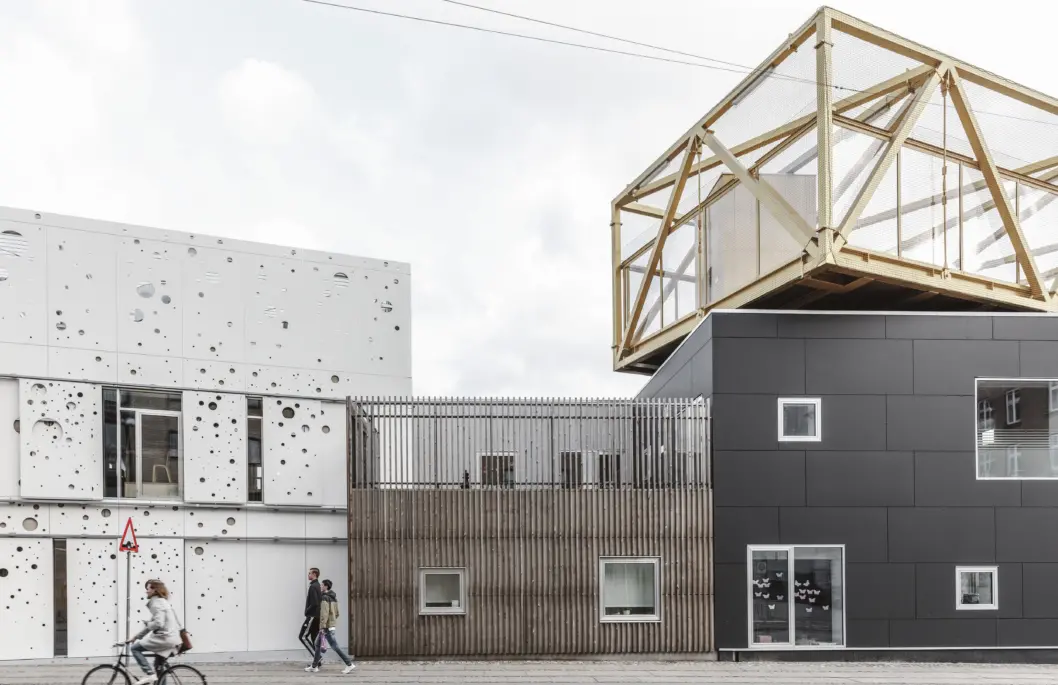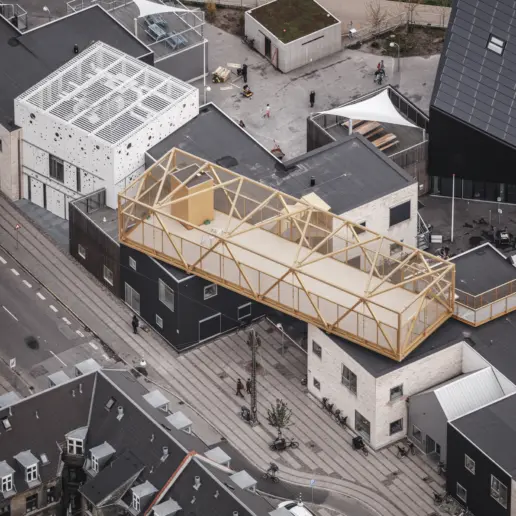 Facing the street, The golden City Gate spans between two buildings. While creating a covered urban space beneath, the city gate and ball cage also pays homage to another famous gate in the neighborhood, namely the entrance to the neighboring freetown, Christiania.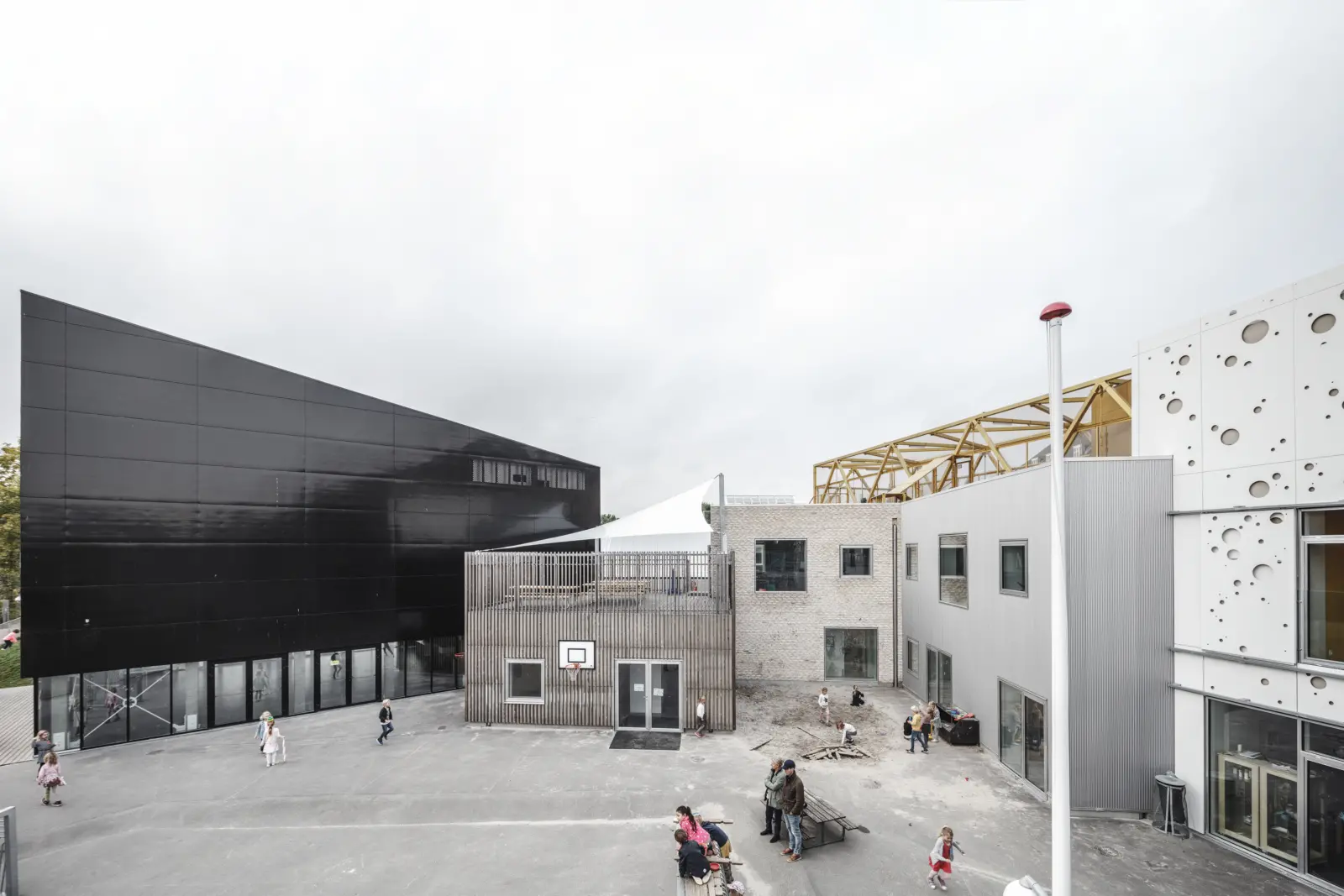 A mix of ages shapes
different communities
The different neighborhoods in Copenhagen all have different types of citizens with different sets of preferences. Similarly, the Kids' City Christianshavn addresses different groups with different needs: infants, preschool children, and school children as well as young people.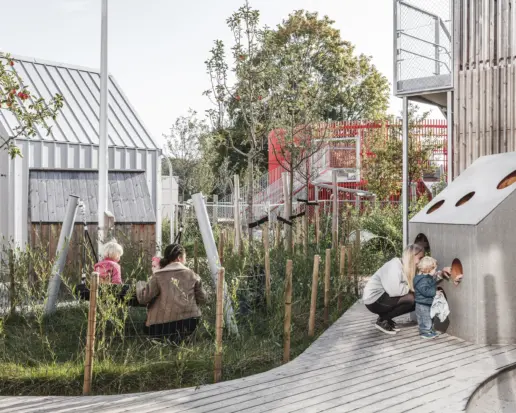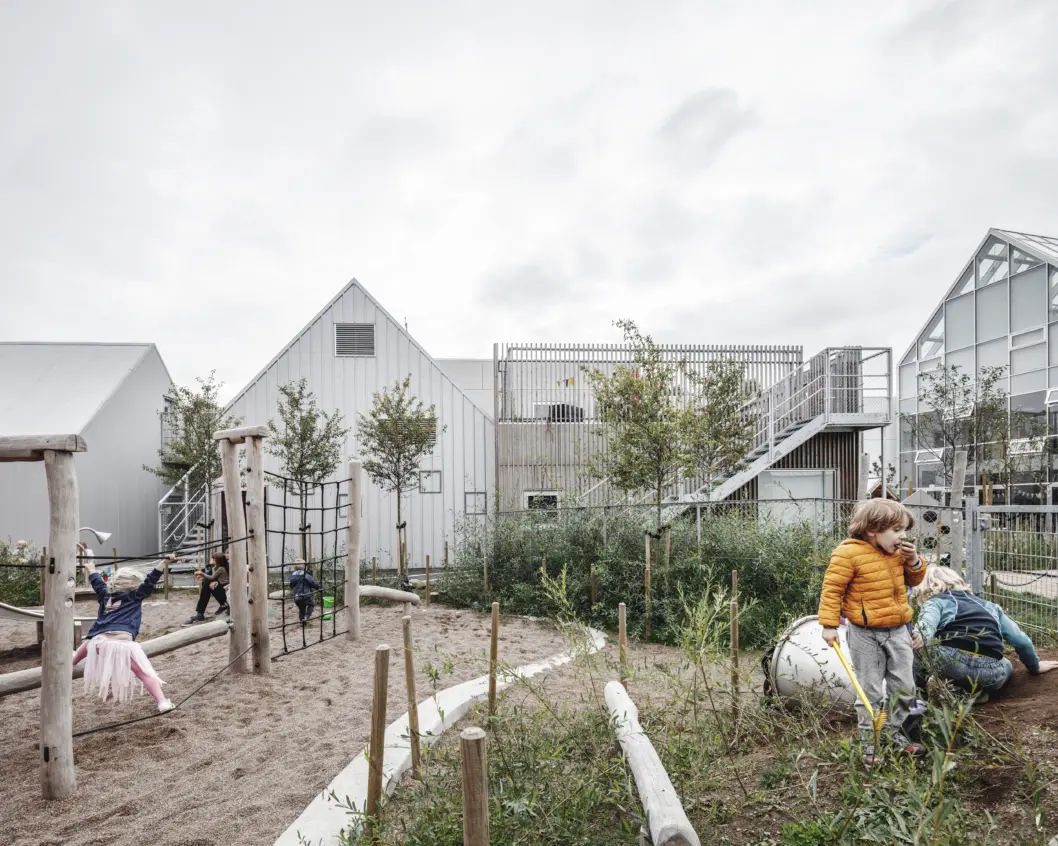 Incorporating variety and diversity in both indoor and outdoor spaces is absolutely essential when designing for such a mix of ages, needs, and personalities. Spaces vary in both scale and content, with both small, secure, and intimate spaces as well as big and challenging areas.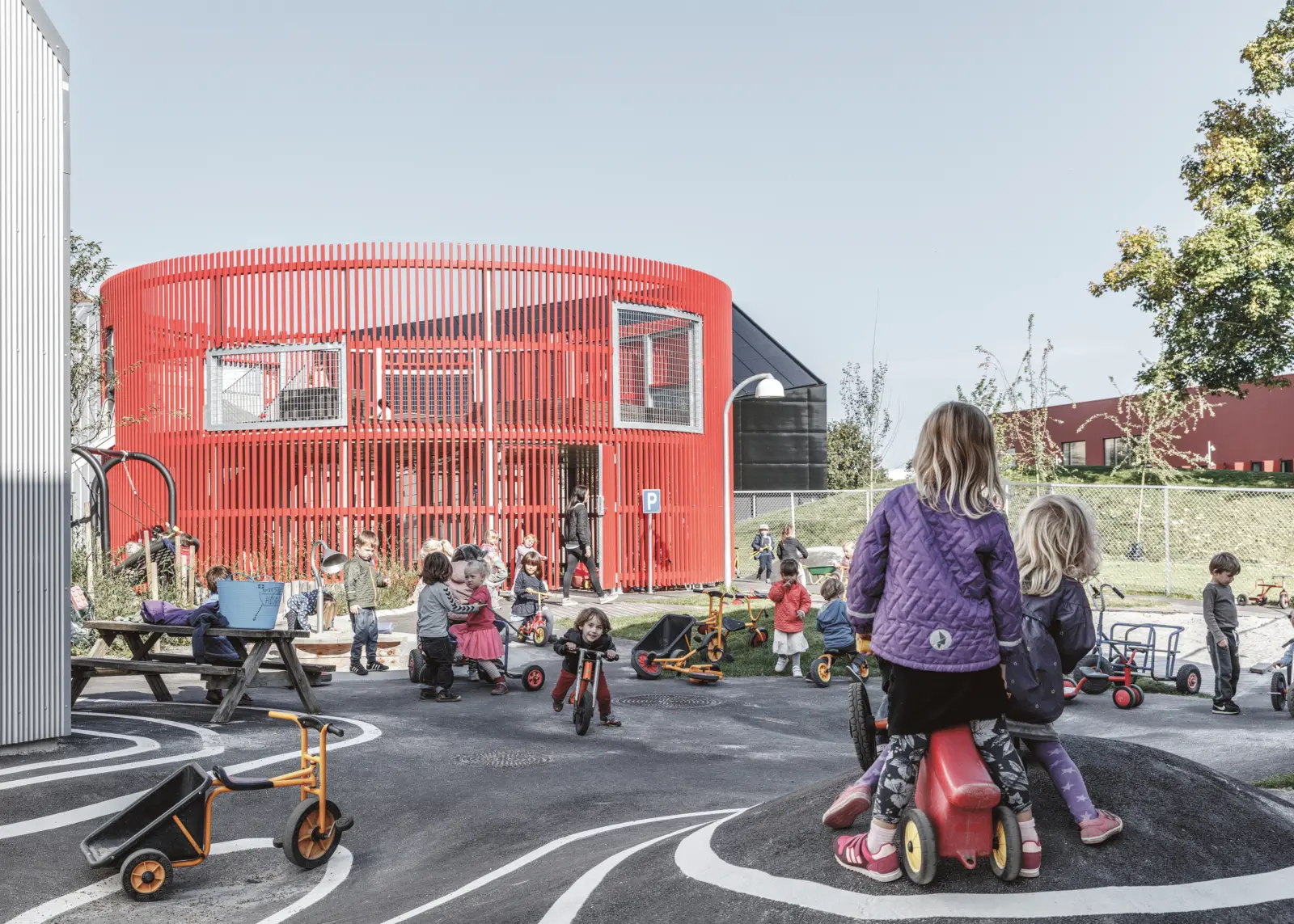 The central plaza with the fire station for moon car parking, the construction site with play machinery, the chalk façade where kids can draw. That is the heart of Kids' City.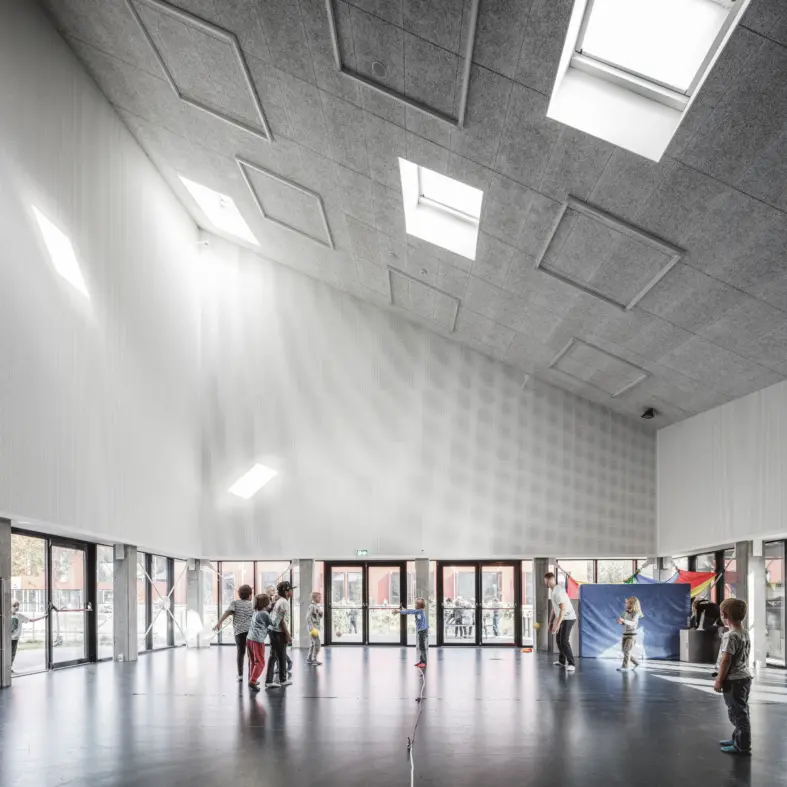 The City Hall for kids is a common space for events like the annual Christmas tree party, Halloween, and in every day life where kids of different ages meet.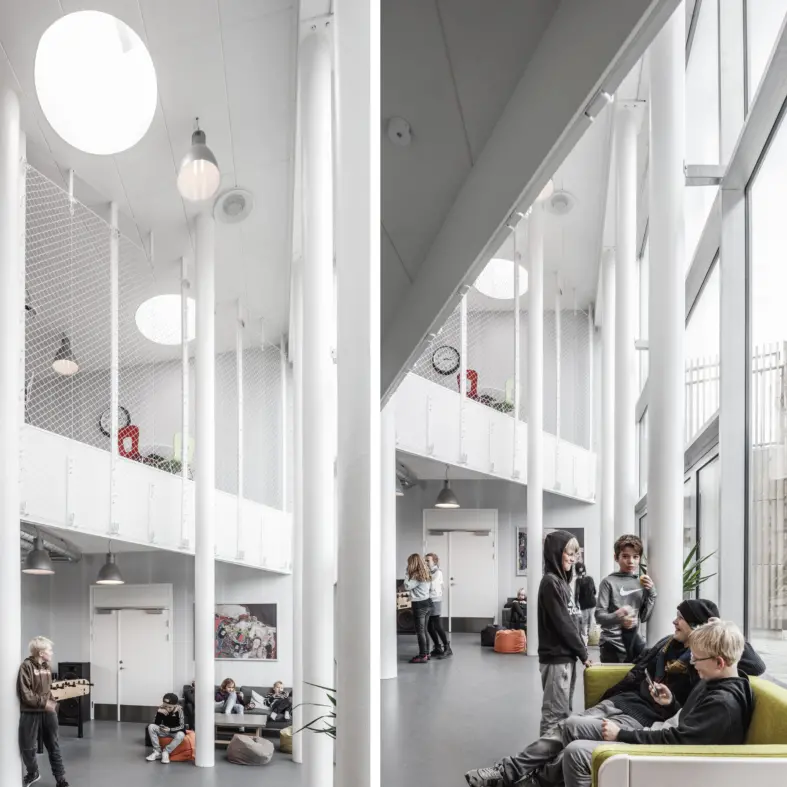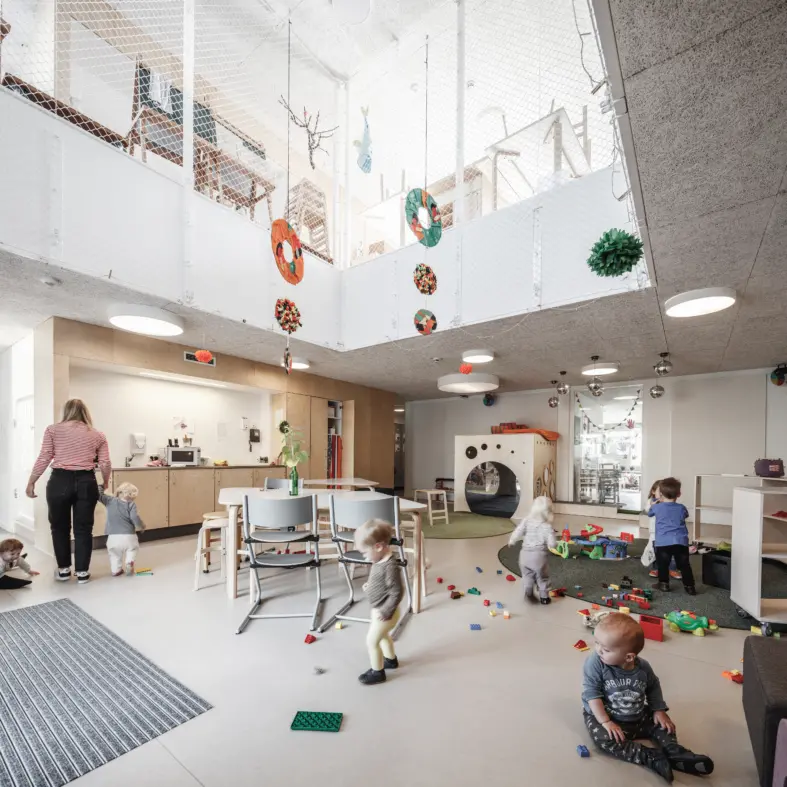 Double high spaces create spatial variation, and make it possible for children of different age groups to connect and interact during the day.