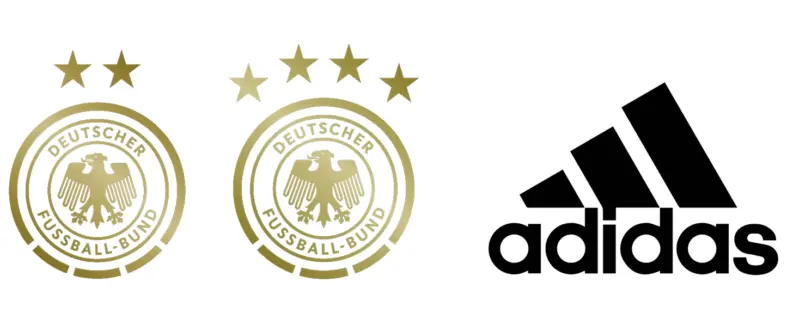 A team village
in the forest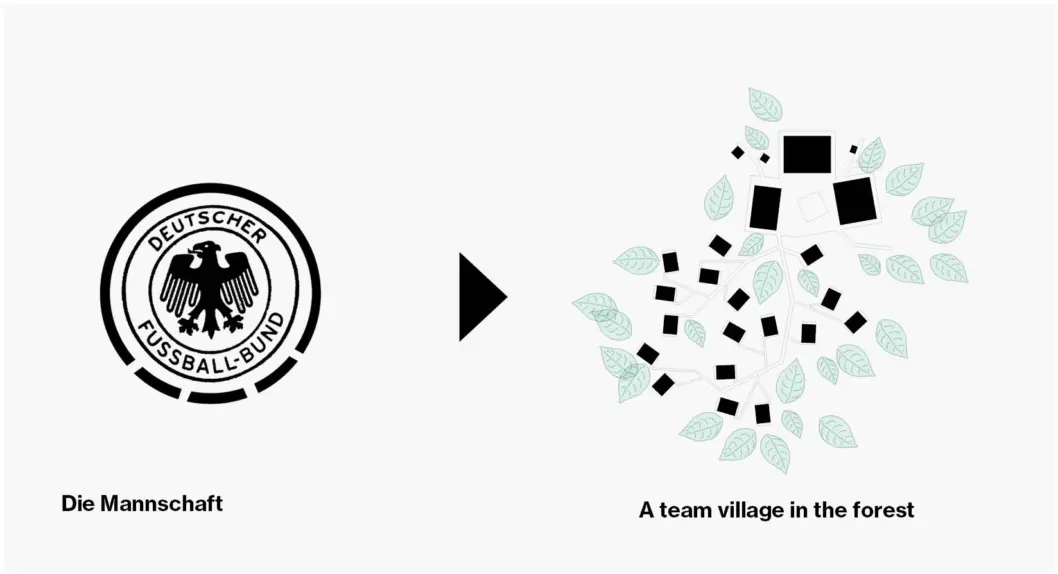 The base camp for the German football teams - adidas HOMEGROUND - is designed as a village, protected and hidden within the forest of the adidas headquarter's 'World of Sports' campus. The forest village has everything a small town can offer - from a central plaza with restaurants, offices and health facilities to sleeping accommodations with views into the forest.


adidas HOMEGROUND is centered around the central plaza, which houses all main functions. Here, the teams can spend time together by the lounge area, the restaurant and bar, or the pool with a public viewing screen. A health center and office spaces for strategy planning provide the teams with everything they need to prepare for upcoming games.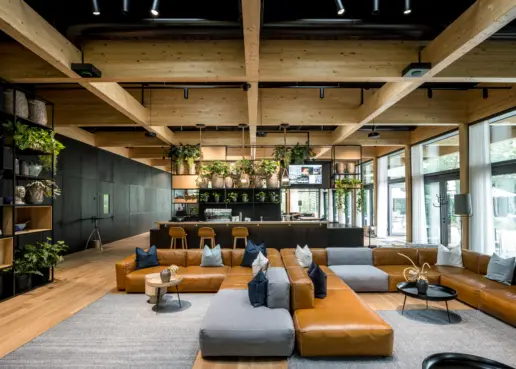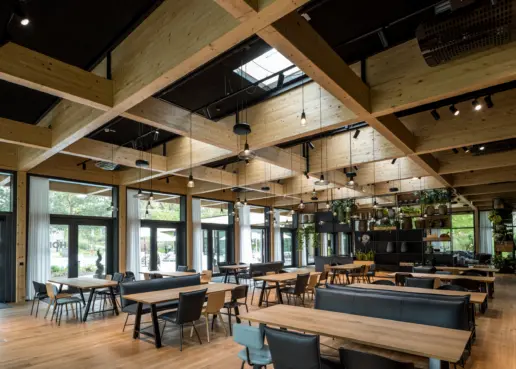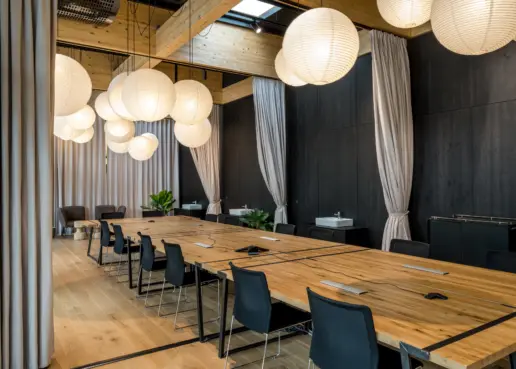 The wooden roof construction spans up to 24 meters, providing the three main buildings with a flexible and adaptable layout underneath. Black boxes under the roof provide for more intimate spaces, such as meeting rooms and doctors lounges as well as storage and technical spaces.
A resilient and robust
roof above one
building for all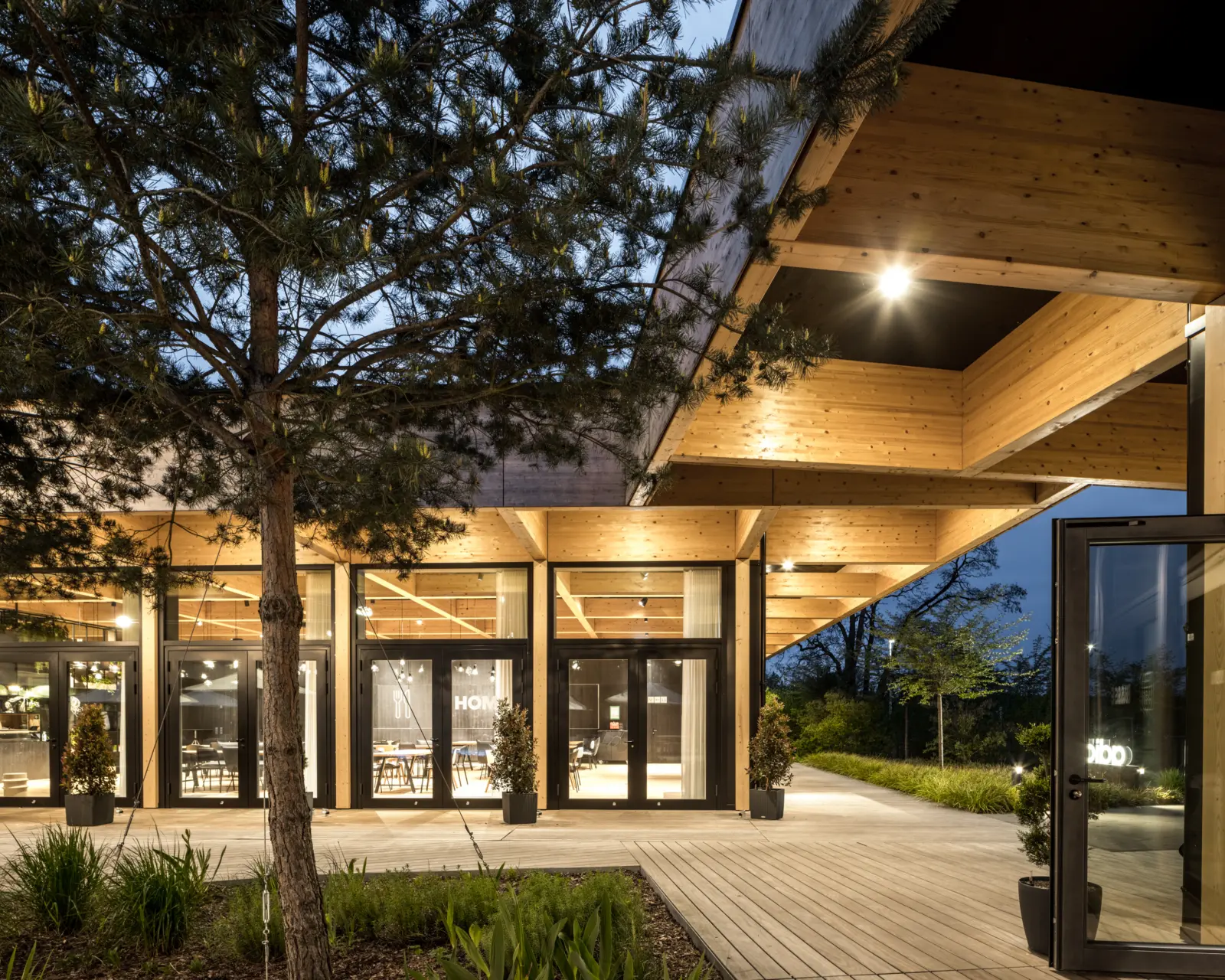 The roof - made of a grid of laminated wood beams - hovers seemingly above the three main buildings, creating a continuous roof-scape that binds all functions into one building.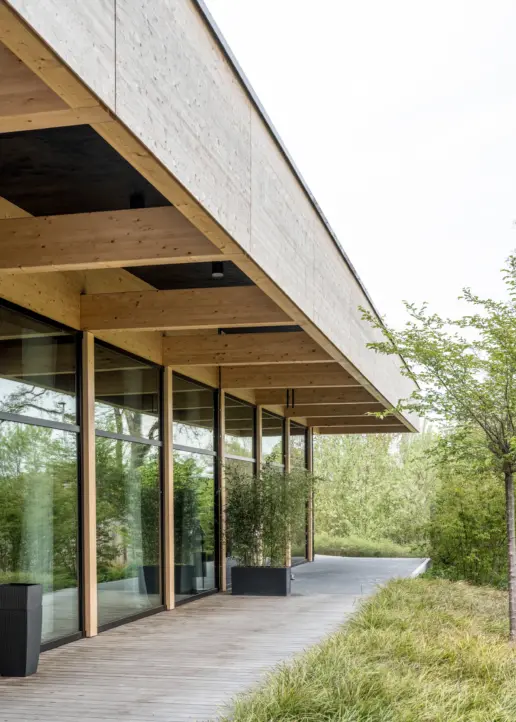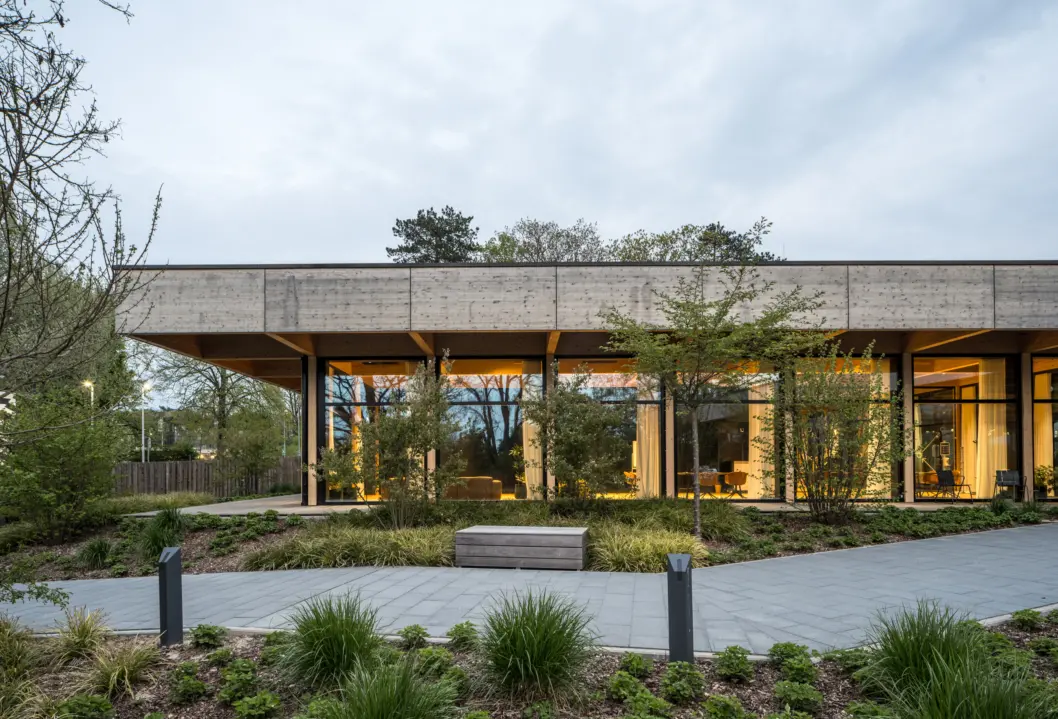 The wood columns are visible from both inside and outside, stitching the roof construction to the wooden platform, and breaking up the glass facades in a rhythm befitting of the beams grid system from the roof. At night, warm light from inside illuminates the facades, for a welcoming and warm atmosphere.
Like a city, everything
is connected
by a path system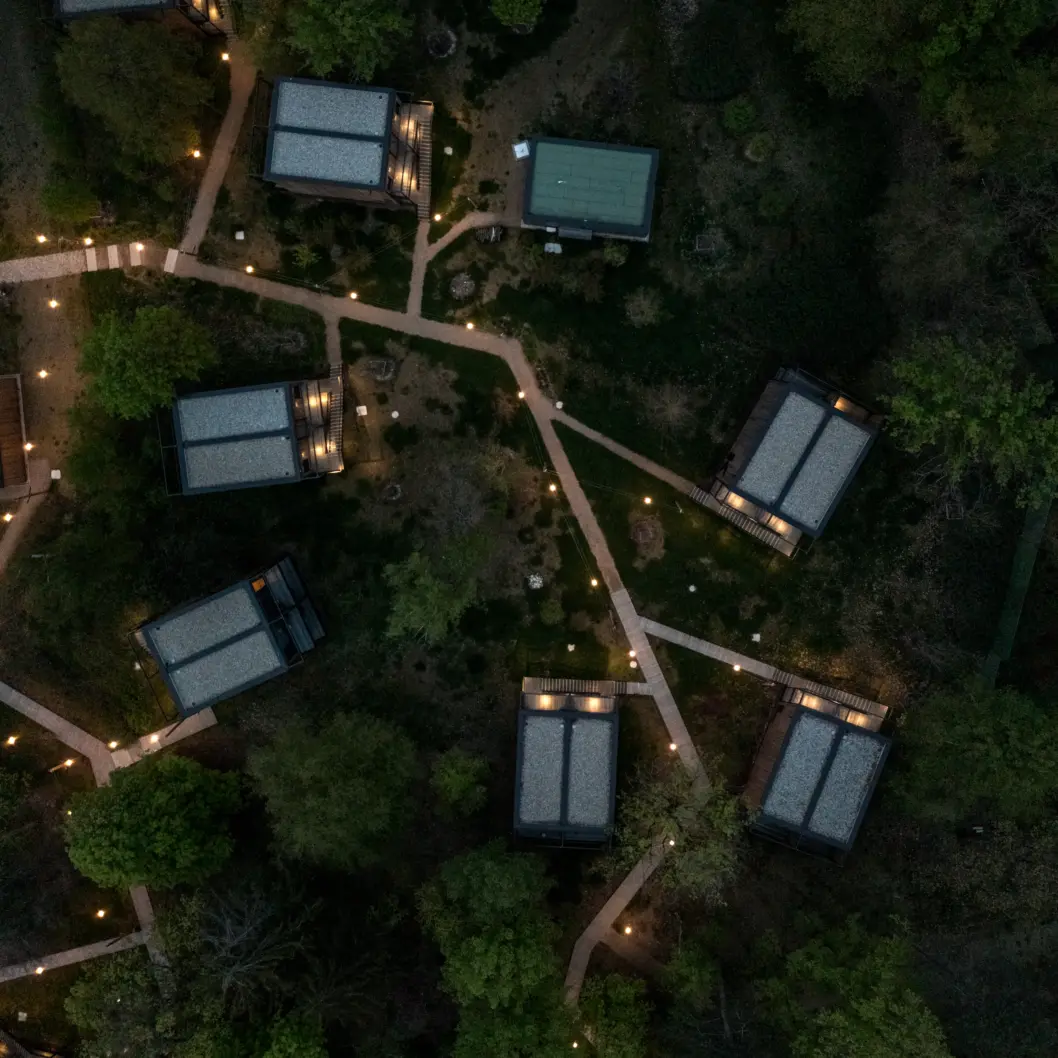 Like a tree, the wooden walkways leading to the individual housing units, branch out along the forest floor. Following these elevated paths is the village's necessary infrastructure, bringing electricity and other utilities to the teams' accommodations.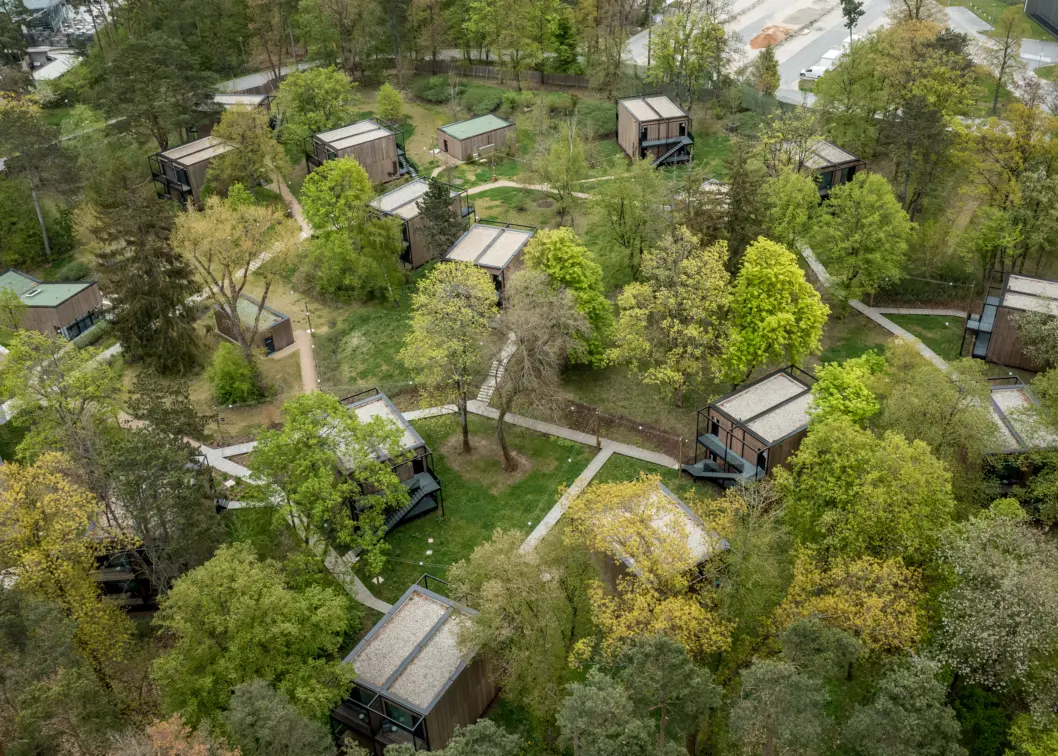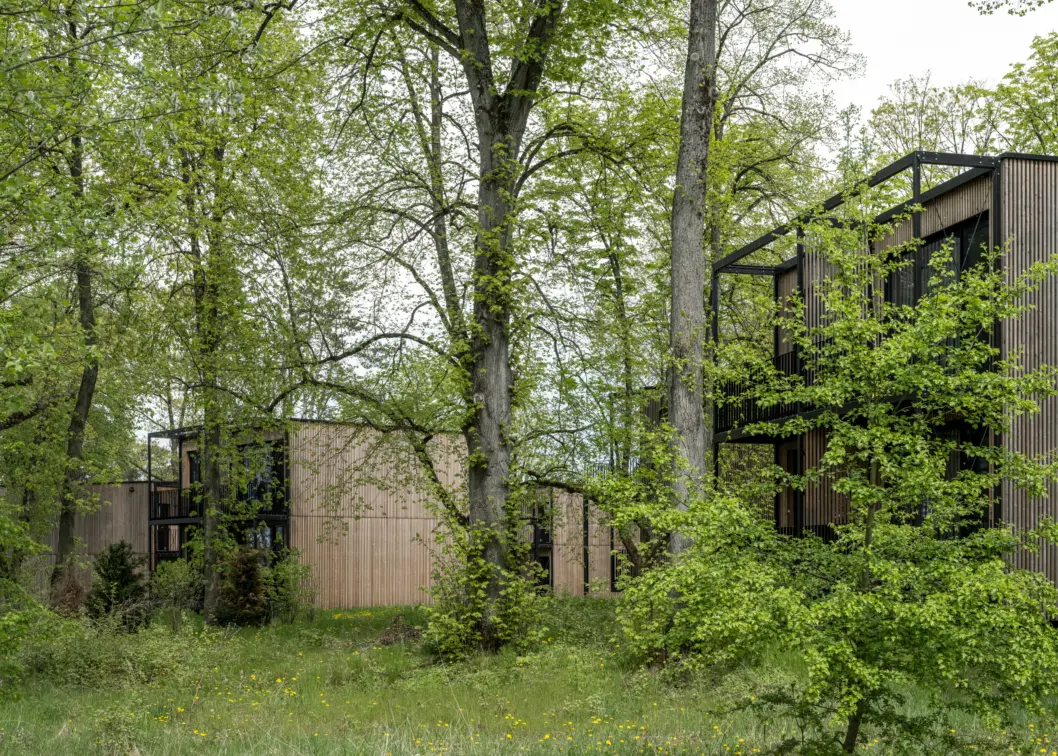 64 individual housing units are grouped together in clusters of four, with shared entrances along the paths. All units are made entirely of pre-fabricated cross-laminated timber. Their sleeping areas face outward and into the forest to ensure privacy. The housing in the woods provides a measured calmness and tranquility for the players.